Have you thought of changing your regular phone over to a VoIP (Voice Over Internet Protocol) phone system? Before you make any decisions,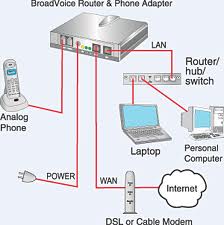 you need to take a few things into consideration. The first thing you'll need to do is get service. If you're wondering what you need to know before choosing a provider, then follow this guide which will help you find out the most important information and not get overwhelmed by choices.
Know your budget – The first thing you need to know is what you can realistically afford on a monthly or yearly basis. As with other types of service providers, most companies that specialize in VoIP will require you to sign a long term contract (one to two years at a minimum).  Check the competition and see what prices and specials they may be running. It's important to know your needs and requirements and compare the costs of different companies. But, one word of caution, if the difference in price between providers is negligible and the higher costing company offers better service and reliability it is almost certainly in your best interest to go with the slightly more expensive provider.
Customer support  – Some providers charge extra for support, especially if that support comes during non-business hours. This isn't necessarily standard for all companies though. The larger companies don't normally charge for basic support. Check with the provider and ask to see a contract to find out what types of service they offer. You will also want to make sure support is available 24 hours a day, 7 days a week..
Emergency Calls – VoIP is not a foolproof system. Although it has major benefits over traditional phone lines, one drawback is that your phone line is not set to your location. This means that traditional 911 calls cannot be made over VoIP phones. Make sure that your service provider offers an emergency or E911 access.
Now that you know those important questions, you'll want to see what people are saying about the service providers you have narrowed down.
Check Reviews
Social networks: First, Check out the official Facebook or Google+ pages for the providers you plan on using. Read some comments and reviews. Then go over to Twitter, and the easiest way to see what people are saying about the company is to do a hashtag search. Simply use the pound sign (#) plus the name of a service provider. So, you might do a search for "#VoIPServiceProviders" (no spaces between words). Once you hit enter you'll get a list of the most recent tweets of people talking about that company. You'll also see whether the company has an active Twitter account and is engaging with their followers (this is a big customer service bonus if they are).
Support
Look for companies with a good reputation for support.  Call their support lines and see if they respond well and seem knowledgeable.  Where is the support team based?  Support people who are physically located at a company's headquarters are likely to be more up to date and better trained on the technology.
Forums: Perform a Google search for "VoIP Service Providers forums" or a specific company plus forum, to get lists of different sites where people are discussing the company and giving feedback. You might need to register on some forums to be able to interact, but as the old saying goes, "an ounce of prevention is better than a pound of cure."
Once you've decided to change your phones over to VoIP, you might get a bit overwhelmed with all of the information and different services that are available. Don't stress! Follow this guide, know what you are willing and able to spend monthly, know what types of customer and emergency services are available then find out what people are saying about the company. Take some time to research the companies you're comfortable with then make a decision.
Author Bio:
Tony is a technology enthusiast and is always up to day witht he most modern gadgets.