It might sound a little implausible but did you know that iPhone apps can actually help to make you live longer? The health related apps can help you in a number of ways to ensure that you are taking care of yourself properly. Now, we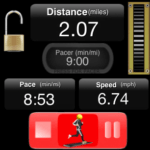 are going to discuss the top iPhone health apps to keep living longer and explain why this is the case.
iTreadmill
Working out at the gym can seem pointless at times because you can't really see the difference that you are making to your body. The app known as iTreadmill will track how far you walk/run, how many calories you have burnt and much more important information. It is basically like a modern pedometer but with many more features. You can track your movement for the entire day and it will motivate you to work harder, this is an app that really makes all the difference. 
Pocket first aid & CPR
This app is a life saver – literally! If you've ever been in the situation where somebody around you or yourself is in imminent danger but you didn't know what to do, this app will tell you all you need to know. So learn how to sort out a whole matter of health issues and become the hero of the hour with this thoroughly useful iPhone app.
WebMD Mobile
WebMD is basically a doctor built into your iPhone. You can get a diagnosis of something if you are feeling unwell based on the symptoms that you are experiencing. You can even get prescriptions for drugs and not to mention important health related advice. This should not be used as a substitute for a doctor but it is handy if you feel unwell and the doctors are not open or you don't have the time to go.
iFitness
If you really want to get into working out but don't know where to start, this is the app for all your needs. You have your own personal trainer without having to pay the hefty fee that usually goes with such a thing. Your knowledge of exercise and endurance are guaranteed to improve thanks to this cool app. There are many videos on this so you can see what workouts are best for certain areas and how to workout safely and effectively.

DrinkFit
If you are one of those people who binge drink and don't have a clue what you are putting into your body, don't worry you aren't the only one! DrinkFit literally has every drink you can think of in its database, both alcoholic and otherwise. Many of us don't count the calories in our liquids but they are important and should be kept track of. This application will help you do just that, so you might drink a little smarter in the future.
In one way or another way, these apps can help your body, your health and can even make you live longer.
Author Bio- This post has been written by Anne Prantel. She is a Health and Fitness expert. She is evangelist at dietdirect.com. They provide best quality of delicious and nutritious low carb snack foods.