The Usenet provider UseNeXT is one of the most known companies that guarantee you access to the Usenet. The Usenet is a worldwide distributed communication and download platform where terabytes of contents are available. Users discuss about many topics in several newsgroups.
The biggest newsgroups are the so-called big eight: comp (Computer), sci (science), soc (social discussions), talk (examples: talk.religion, talk.politics), rec (recreational), news (news), and misc (miscellaneous topics). However, a more open and unstructured newsgroup category is "alt". The biggest subsection of the "alt" newsgroups is the category alt.binaries, where Usenet users are able to download binary files.
Register on usenext.com
If you want access to this infrastructure you can go to usenext.com. This Usenet provider offers you several Usenet download packages where you can choose one package that fits with your download behavior. Just fill out the following folders and you can test UseNeXT for 14 day free of charge with a download package of 300 Gigabyte.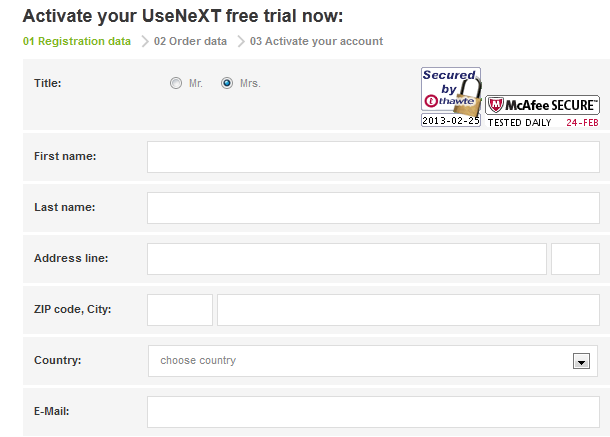 UseNeXT offers the following benefits:
access to more than 60,000 newsgroups

over 6,000 terabytes of data

6 server farms worldwide

downloads at full bandwith

encrypted registration

free of ads and spyware
Usenet access with newsreaders
After the sign-up process UseNeXT sends you your individual login data. Go to http://www.usenext.com/software/ and choose one newsreader. Download a proper newsreader (one of the most downloaded newsreader is Tangysoft that is particularly compatible with UseNeXT) and use the provided license key for the login. After that you are able to download from Usenet. After the 14 days free trial version UseNeXT offers you the following paid download packages:
30 GB / month

80 GB / month

250 GB / month
To sum up, the UseNeXT login is very easy:
Activate free trail version after the signing-up

Select & install the Newsreader software

Enjoy the UseNeXT benefits with fast download speed