Here we'll explore the best newsgroup reader and NZB downloaders available today. Whether you use Linux, Windows, or Mac OS X, they all support NZBs and SSL encryption.
What is a Usenet browser?
With a Usenet browser you can download legally, safely, and quickly with your maximum internet connection speed. There are also premium paid Usenet downloaders, but we think you should expect a free Usenet client from your Usenet account.
5 Best newsgroups readers
The 5 best newsgroup readers (NZB and Usenet clients) we have tested, so you can easily choose the one that suits your needs, are:
SABnzbd
NZBGet
Newsleecher
Newsbin Pro

Without a good news server, a Usenet browser client is of little use. We recommend Easynews for the lowest price with the best 3-in-1 Usenet experience: NZB search engine, Usenet client, and Usenet service, to download and stream videos, even on your Android & iOS mobile.
If you like add-free video's, learn how to watch YouTube without ads.
The best Usenet clients listed, allow you to use NZB sites with binaries search, such as Binsearch info, to search the newsgroups. If you want to download old posts without problems, compare the best Usenet provider with other news servers and choose the retention that suits your needs. It is also common for Usenet providers to offer VPN for free.

Easynews – Best NZB downloader and streamer (for mobile)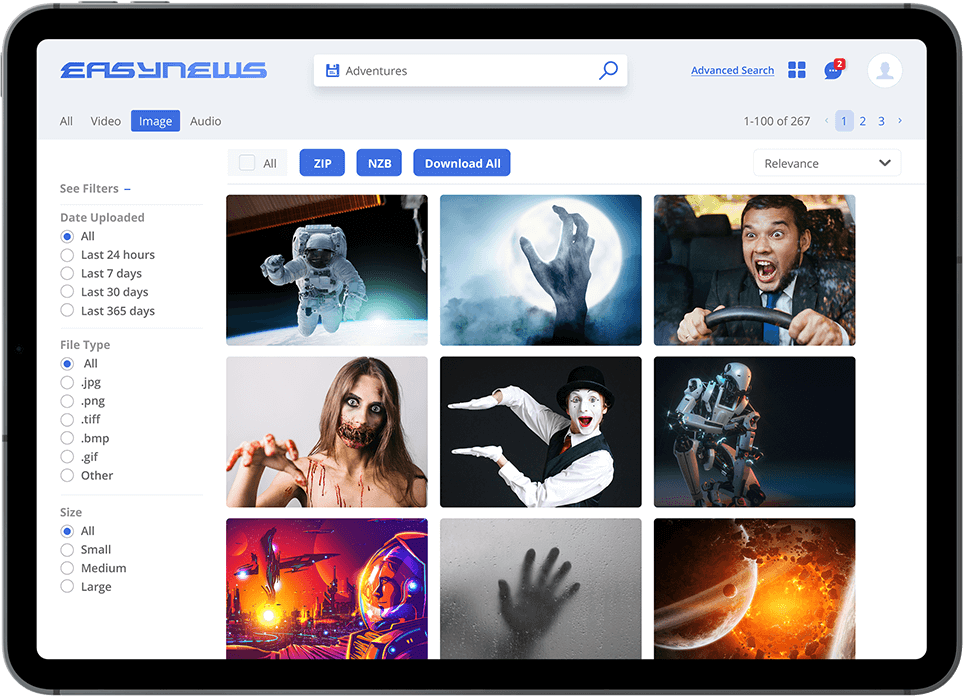 Easynews is an all-in-one Usenet package, offering blasting fast Usenet access with the highest binary retention. No need to sign up for NZB indexers, thereafter to install and configure a newsreader separately.
Because it is web-based, you don't need to install anything and can access Usenet from any browser like Chrome, Opera, Firefox, Safari, etc.
The best Usenet search engine of Easynews (built-in search function), will get you the best search results of any Usenet browser or NZB site out there. Easynews easily beats NZB Geek and has a one-week free Usenet server trial.

SABnzbd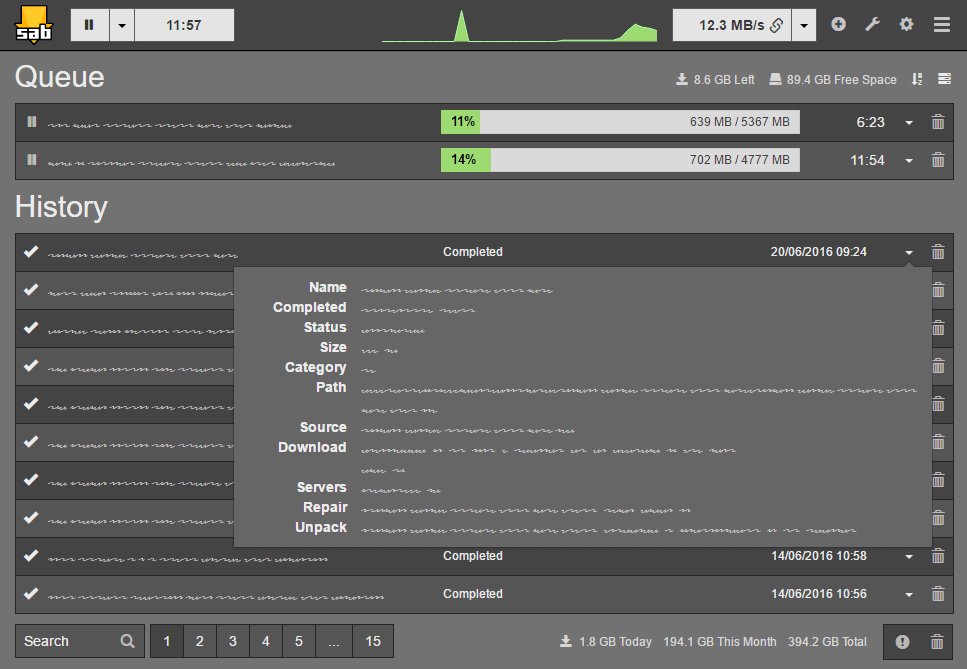 SABnzbd is a binary newsreader (Usenet downloader) that runs in your web browser. Like Easynews it is web-based and therefore can be used on any browser running Windows or Linux (plus NAS devices). A particular advantage is that you can switch between sixteen languages, like the most prominent European languages plus Chinese and Russian.
This NZB / newsgroup client integrates with other tools like Sonarr, Radarr, and Sickrage or API interfaces, for which you can use custom scripts. Additionally, it can also read and process RSS feeds.
The interface is configurable and contains features like night mode, drag-and-drop, speed limiting, and managing individual files.

NZBGet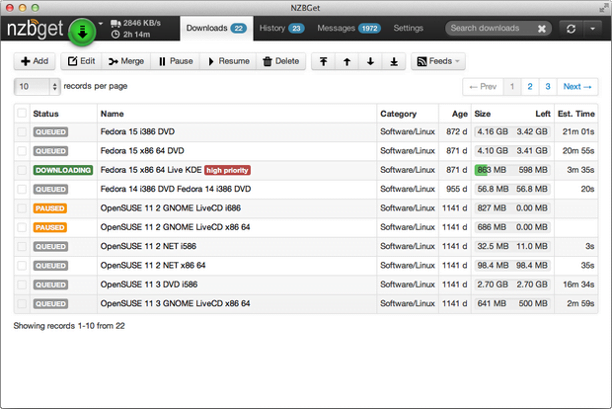 NZBGet is an efficient NZB downloader with NNTP access, that is open source and free to use. You can install it on Mac, Windows and Linux, routers and NAS. The main program acts as a host for browser-based clients that can be used on other devices including mobile.
One of the main assets of NZBGet is speed. It is very fast and it is easy to download files available on Usenet, simply upload one or multiple NZB files via the easy to use interface, transfer them to the incoming folder of NZBGet, or direct the application to a specific URL to initiate the download process for the desired files from Usenet.
But besides that, NZBGet has some smart features like fast de-obfuscation, sophisticated repair process, PAR file verification, a bunch of common Usenet options, etc. This makes them stand out among other Usenet clients.
Due to its feature variety, NZBGet is particularly interesting for advanced Usenet users, but at the same time user-friendly enough for beginners.

NewsLeecher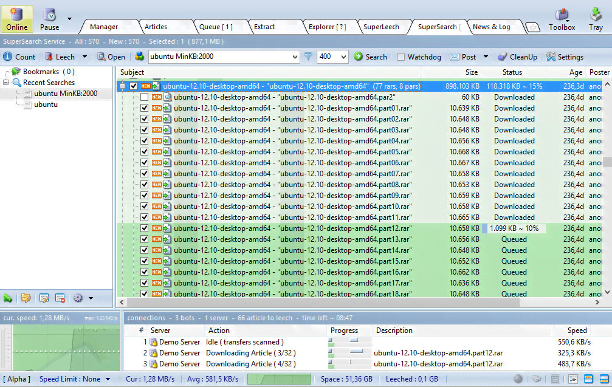 NewsLeecher is a Windows Usenet newsreader with a lot of traction. The very easy to use client uses tabs that make it easy to multi-task.
With NewsLeecher you'll be able to create NZB files on the spot, import them and even have the program monitor, import, and download files. The program does a great job at organizing all your different Usenet tasks, which provides a great overview at all times.
Besides the many great features and fast searches, NewsLeecher saves you time by avoiding spam files like RAR-in-RAR files, EXE or SCR files, and password-protected files. Useful features that not all Usenet clients offer.

Newsbin Pro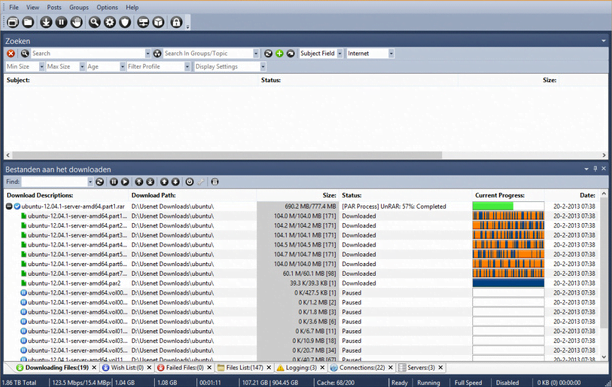 Newsbin Pro is a high-end Usenet newsreader. Newsbin Pro has been around and is therefore packed with nice features. And on top of having great functionality, it is one of those Usenet clients that is easy to use.
Enter your Usenet server information and start searching and downloading. Some features of this Usenet browser enhance its download speed, you can use multiple servers simultaneously, and like some other Usenet clients, it has a good filter for spam files.
Some of the features that we particularly liked are the download scheduling option and the bandwidth limitation to be able to use your device in parallel while downloading at the same time.
There are some clever NZB options that allow auto-downloading of files and repairing RAR files. Besides that Newsbin Pro supports several proxies like SOCKS 4 and 5.
Other NZB downloaders, like Binreader we didn't list because the haven't been updated for a long time or stopped working.

FAQ
Are NZB files illegal?
NZB files are legal as long as they contain legal content. It is your responsibility to make sure you handle only legal content.
What is a Usenet client?
A Usenet client is a program to read and upload articles or binary files. Usenet clients are also called (Usenet) newsreaders, newsgroups reader, NZB client, NZB downloader, Usenet downloader – which are sometimes integrated into providers like Easynews.
What is NZB?
NZB stands for "Newzbin Binary," which is a file that includes details on where to locate various components of media files, like videos, images, audio files, and more. These files help make the process of downloading files from Usenet more straightforward and more accessible.
What's the best Usenet browser?
The best Usenet browser is Easynews. Based on our tests it is the most accurate, feature rich, innovative, and convenient service.
Are NZB files safe?
Yes, NZB files are harmless. Though, once your NZB file has instructed your newsreader to download files, you need to be careful with SPAM, malicious files, etc..
What is Sabnzbd?
Sabnzbd is a popular open-source Usenet client that simplifies the process of downloading content from Usenet by automating the download process.
What is the best NZB downloader?
The best NZB downloader depends on individual preferences, but popular options include Sabnzbd and NZBGet.
What is an NZB file downloader?
An NZB file downloader is a software application that enables users to download files from Usenet newsgroups using NZB files, which contain information about the desired content.
What is a Usenet provider?
A Usenet provider is a service that allows users to access newsgroups and download content. It's like a library for digital content.
What is NZBGet?
NZBGet is a popular lightweight open-source Usenet downloader that offers fast download speeds and efficient hardware usage.
What is Sonarr?
Sonarr is a popular open-source software application used to automatically download content from Usenet or BitTorrent.