UsenetServer

Summary
UsenetServer is an experienced Usenet provider known for providing affordable unlimited Usenet access with fast speeds and some of the best binary and text retention in the business. They operate their own independent server farms in both the US and Europe and have been regarded as one of the best back-end service providers for decades.
UsenetServer provides top-quality Usenet access at a low cost. They also offer some nice freebies, including a free Usenet search feature named Global Search, as well as a free VPN account. There are no monthly bandwidth restrictions on UsenetServer or any of these features.
Overall, UsenetServer offers the best overall 'bang-for-your-buck' Usenet, so if you are looking for the best value, this is the provider we recommend to you.
Price / Packages
UsenetServer offers two simple Usenet newsgroup access plans – a monthly plan and a yearly plan. Both give you unlimited, SSL-encrypted downloads and include some of the best features.
Exclusive Discount – Get a 60% lifetime discount through ShareConnector!
14-Day Free Usenet Account (trial)
True Unlimited Access. Both plans provide true unlimited access. Other providers claiming unlimited access typically have a monthly 'soft cap' on the amount of data you can access. UsenetServer doesn't.
Blazing Speeds. UsenetServer operates one of the fastest independent backbones globally that peers with more than 800 providers of Internet bandwidth worldwide. With any plan, you will get breakneck speeds with zero speed throttling.
The Longest Retention. UsenetServer has a huge storage architecture with the best retention, both binary and text, in the industry. Nowhere else will you get access to more retention and more articles.
Free Usenet Search. Unlimited access to UsenetServer's Global Search feature. This is a slick and probably one of the best Usenet indexers, that even allows you to create NZBs.
New! Free VPN service with Yearly Plan. Get a zero-logs VPN for free with your annual account (an additional $4.99 with a monthly account). Free software is included.
99% completion. UsenetServer maintains relationships with all best Usenet services and most smaller providers, which means you can access virtually every article on Usenet worldwide. UsenetServer's storage architecture is also fully redundant, so they never lose an article once added to their servers. This ensures a near-perfect completion and great reliability.
Free SSL connections. Free 256-bit SSL connections are included for fully secure and encrypted access to their servers.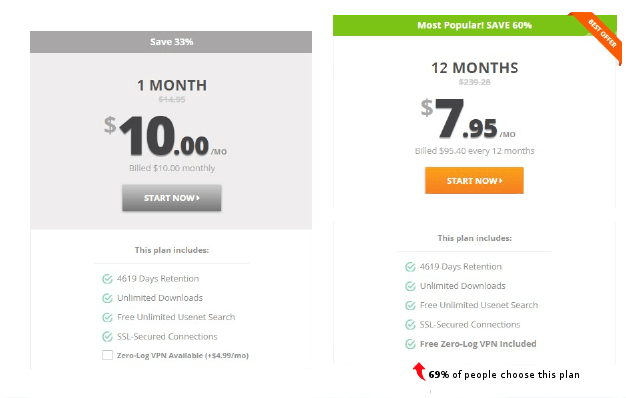 Overall, both Usenet packages come with everything you need in a Usenet service. This special offer of $7.95/mo (annual account) makes it one of the best deals on the market today.
Payment options
You can only pay by credit card or PayPal.

Connectivity and Configuration
Here are all the configuration details to connect your UsenetServer account with any newsreader, like a Mac Usenet client:
Address: news.usenetserver.com
Ports: 20, 23, 25, 119, 3128, 7000, 8000 and 9000
SSL ports: 563, 443 or 8080
Connections: 20
Retention: 4619+ days (both binary and text)
Speed
With a cable connection in The Hague, The Netherlands, we got a constant downloading speed of 300 Mbps with only 7 connections. This is a result only top Usenet providers reach. We compared Eweka vs Newshosting speed. Check out the results.
We have also published other Usenet reviews if you'd like to compare UsenetServer with other top providers. In the review section, you will find several other providers such as EasyNews and Newshosting. Besides that, you can check out the Tweaknews vs UsenetServer download speed comparison.
If you are specifically looking for a European provider, we have tested a couple of good Dutch Usenet providers like Eweka and XSNews.
Retention
We are also pleased to see that UsenetServer grows its retention daily. Many other providers have far less retention (in some cases, years less) and do not grow their retention.
This means that these competitor networks can only store a limited number of articles. When an article posted to a server gets older than the number of days supported by that provider, that article gets deleted.
When you choose a Usenet service provider, you should generally pick one that provides high retention. Some providers offer months or years of retention, whereas UsenetServer offers 12 years and growing. The actual difference in the number of articles you'll be able to access is substantial.
Download completion
We had no problems with missing data during our testing, including binary and text articles. We even downloaded articles older than 4,000 days. UsenetServer boasts about 99%+ completion on their website. It's because they peer with most Usenet providers to make sure you can access almost any article on the Usenet.
UsenetServer VPN
The special discounted yearly plan that ShareConnector visitors get includes a free Usenet trial, a zero-log PrivadoVPN account for free, including free VPN clients for Windows, Mac, iOS, and Android, all of which are simple to use. In addition to the free software, you can use the VPN service as much as you want with no bandwidth restrictions.
If you prefer a monthly Usenet plan but still want the VPN, it is available as a $4.99 per month add-on. This is still cheap, although we would recommend opting for the yearly UsenetServer plan where the VPN is included for free.
Operating Systems
The ShareConnector exclusive deal comes with a free zero-log VPN service from PrivadoVPN, which you can install on Windows, Mac-OSX, Linux, iOS, and Android operating systems.

Servers
The UsenetServer PrivadoVPN offers access to 45 Countries with Hundreds of Servers.
Connections
You can connect up to 10 devices to UsenetServer (Privado) VPN, the market standard for VPN services. Besides that, you'll have unlimited server switching, data transfers, and bandwidth.
A pretty good VPN service that is completely free when you take the 12-months deal.
Support
UsenetServer offers 24/7 support. You can submit a ticket on their website and they'll usually answer within a few hours.
FAQ
How to use UsenetServer?
How to use UsenetServer, we describe in detail in this review. We cover installation, configuration, and the UsenetServer features.
How good is UsenetServer?
UsenetServer ranks high in our ShareConnector ranking of the Best Usenet Provider. High retention, unlimited speed, and free VPN, along with great download completion, make this an excellent choice.
How to Setup SABnzbd with Usenetserver?
To set up SABnzbd with UsenetServer, fill out the configuration details we listed in this review at Connectivity and Configuration.
Pros
Best value for unlimited Usenet
Independent backbone
Longest retention (text and binary)
Usenet search feature
Free VPN-service
Cons
You cannot pay with iDeal
UsenetServer

Award-Winning Search
Find what you need on the Usenet faster by signing up today