Eweka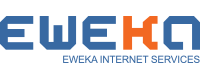 Summary
For 20 years, Eweka has been one of the most respected Usenet providers in Europe. They provide a high-quality Usenet service with great retention and completion rates.
When you add the 27% lifetime discount plus a 1-week free trial with unlimited downloads, it is also one of the most compelling Usenet offers available anywhere.
Eweka provides Usenet service since 2001 and has built a reputation from being one of the best, if not the best, European-based providers.
They own and manage their own private data centers across Europe, have a fast and reliable network, and provide some of the highest binary and text retention rates.
Price / Packages
Eweka offers three packages to choose from, and each plan gets you unlimited downloads and access to full retention. Where the plans differ is in the download speeds and the number of connections allowed.
To sign up for an Eweka account, you will need to enter your email, country and set a password. When you select your country from the dropdown, you'll see all the payment options available in your country. We recommend the High-Speed 'Subscription' account, which is the only plan that comes with the 7-day free trial with unlimited GB.
How to get Usenet access for free? Many Usenet services offer free trials which can help you decide what works best before pulling out your wallet.
ShareConnector negotiated a special deal with Eweka. Start with a 7-day free trial and get a 27% lifetime discount on the annual subscription plan. If you select another duration (1, 3, or 6 months), you'll get a 22% lifetime coupon discount.
You can cancel any time before the end of your free trial, and you will not be charged. Looking for UseNeXT reviews with promotion code? Follow the link to get the special deal, no code needed.
Eweka packages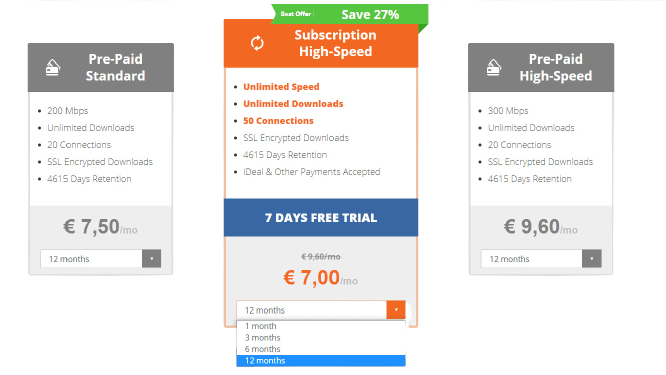 Eweka doesn't offer a free VPN, but EasyNews does (see Easynews reviews). Please read about it here and compare Avast VPN vs EasyNews VPN, or check out our other Usenet server reviews, like Newshosting reviews.
Payment options

Eweka has many local and international payment methods to choose from. Use PlaySpan to make payments with your Visa card, MasterCard, American Express, Diners Club, or JCB credit card. Payments are processed immediately.
In order to perform a PlaySpan payment, you will need to request a payment link from My Eweka.
Connectivity / Settings
Here are the server details to connect any newsreader, like SABnzbd, to Eweka's Usenet servers:
Server address: news.eweka.nl
SSL ports: 563 and 443
Non-SSL ports: 119
Maximum connections: 20 or 30*
Retention: 4615 days (both binary and text)
*depends on the package
It is also easy to configure Eweka with Spotnet. Like with any newsreader, use the info listed above in the one-step Spotnet provider settings. If you happen to encounter any issues with Spotnet, you are likely using the old Spotnet version 1.8. We recommend downloading the newest Spotnet 1.9 Classic (recommended) or the unofficial Spotnet 2.0. Find out what the best Usenet client is.
Speed
As listed in the package comparison above, Eweka offers unlimited, 200Mbit/s, or 300 Mbit/s download speeds, depending on the plan. If your Internet connection is more than 50 Mbps, we recommend going for unlimited speed.
On top of that, it includes a 7-day free trial with unlimited downloads as well and a 27% lifetime ShareConnector discount. Of all UsenetServer reviews, we offer the highest discount with our special deal.
Retention
Eweka is among the best in the market in terms of file retention. They currently offer 4615 days of article retention on all of their servers and all binary and text newsgroups.
This is a quality feature compared to other service providers that offer much less retention plus varying retention rates depending on the newsgroup instead of full retention storage with Eweka. With Eweka, you won't see any DMCA takedowns.
The higher the retention, the more articles you will be able to find. So, choose a Usenet provider with the highest retention. Eweka invests in data storage capacity, resulting in a daily growing retention rate.
Download Completion
Article download completion is 99.5%, which is impressive. This is more than 12 years of articles being stored on Eweka's servers. Can you imagine, you'll get unlimited downloads with this level of completion and retention for as cheap as 7 Euro/month? This is definitely one of the best value offers you can get anywhere. You can also download files that you found on NZB sites with Eweka.
Support
Eweka support is available during business hours from Monday to Thursday, between 09:30 and 13:00 hours, and between 13:30 and 17:00 hours (CET). On Friday between 10:30 and 13:00, and between 13:30 and 17:00 hours.
You can get support in English, German, French, and Dutch. You'll have to log in to your MyEweka personal page to send your support request. Besides that, they have an FAQ section on their website.
FAQ
How to get an Eweka free trial?
The best way of getting an Eweka free trial is to follow one of the links in this review. This way, you'll get the special deal that we negotiated with Eweka. You'll be better off than directly ordering from them.
How to set up an Eweka SSL server?
To set up an Eweka SSL server, you need to select the SSL privacy function in your news client. Then you can log on to the server 'sslreader.eweka.nl' via port 563 using your login details.
What is an alternative to Eweka?
EasyNews would be a good alternative to Eweka. You can access files directly from your browser without installing anything. EasyNews allows you to search, preview and download articles from newsgroups extremely fast and their retention is at the same level as Eweka's.
Pros
Reputable Usenet provider
Independent EU backbone
Fast and reliable service
Free newsreader with search included
Free SSL encryption/security included
Among the best article completion and retention rates
Free trial avail with unlimited downloads
Cons
No bitcoin payments
No real-time customer support
Eweka

Quality Usenet at an Amazing Price
Access milions of audio, video, and text posts with Eweka today