TweakNews is a standalone Usenet service provider that boasts remarkable article retention and completion rates. This is crucial when you're accessing older articles on Usenet.u003cbru003eFor just €9,07 per month (annual plan), you get top speed, a free high-quality newsreader (Usenetwire), for Windows, Mac, and Linuxu003cstrongu003e, u003c/strongu003eand a free VPN. It's one of the best value packages available.
Tweaknews operates multiple server clusters throughout Europe, ensuring high download speeds and the best download completion rates (99,99%) among all European Usenet providers we've tested. The TweakNews subscription with a comprehensive Usenet access package includes unlimited content downloads, unlimited speed, free SSL encryption, up to 60 connections, a free Usenet client with search and preview functionality, and a free zero-log VPN service.
Price / Packages
TweakNews offers three flat-rate packages with unlimited downloads. Each Usenet package has its own speeds and number of connections. Plus, you'll get a 7-day free trial with 50GB downloads.
All plans include a free newsreader with integrated search and preview functionality, that works with all popular NZB apps.
They also offer five block packages (flat rates), limited to a speed of 100 Mbit. A block account is valid indefinitely and you pay for the amount of download volume in GB. This means downloading without time restrictions.
Note: The 10-day free trial with unlimited downloads or the free VPN is NOT available with the block accounts. If you are new to Usenet you can also get the best free Usenet trials and compare.
ShareConnector readers get a 42% lifetime discount on the 'Best Deal' package, which is the best plan that TweakNews offers. The 42% discount promo deal comes with the annual Ultimate + VPN package. You'll get a 23% lifetime discount on the monthly plan.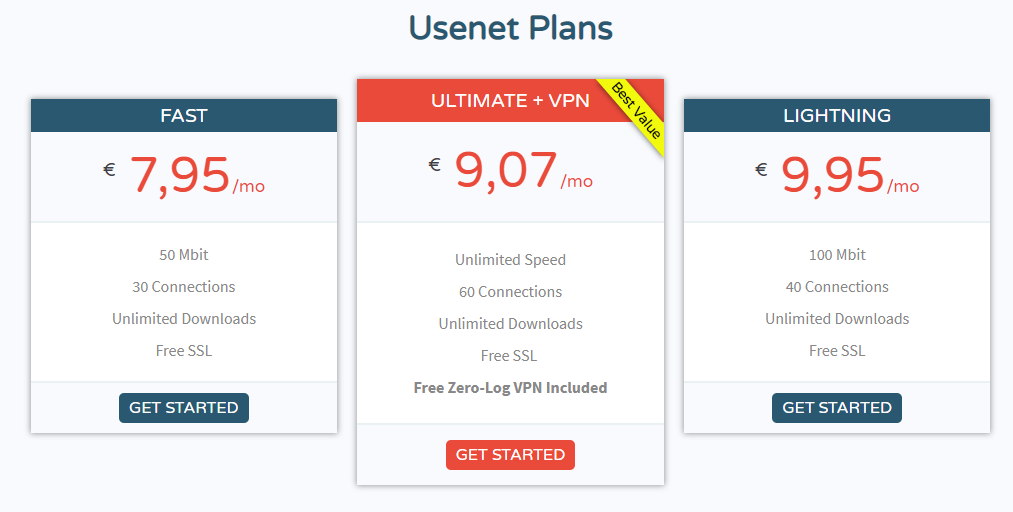 Ultimate + VPN – 12 Months plan 'Best Deal'
42% lifetime discount
Normal price– €12,95 per month. Discounted price –€9,07 per month (42% lifetime discount)
Access to all tier-1 Usenet server clusters
Maximum retention (and the best of all EU providers – crucial for accessing older articles)
Unlimited downloads
Unlimited speed
99,99% completion
60 connections
Free SSL
Free Newsreader with search
Free zero-log VPN
Includes 7-day free trial with unlimited downloads
No DMCA takedowns
Compare TweakNews with other top news servers. TweakNews is one of the best Usenet providers of this moment, like EasyNews (see our Easynews VPN review). Also, read our Newshosting, Pure Usenet, and other reviews, and draw your own conclusions.
Payment options
You can only pay by credit card or PayPal and some local EU payment methods.

TweakNews also offers many different global payment options: iDeal, Sofort, GiroPay, MasterCash, MasterCard, Visa, and American Express are currently accepted.
Connectivity and Configuration
The server settings for TweakNews are as follows:
Address: news.tweaknews.eu (this will auto-route you to the fastest server)
Ports: 119, 80 563 (SSL), 443 (SSL)
Connections: 60
Retention: 4200 days
Speed
Our Usenet reviews prove that TweakNews is indeed pretty fast. With only 10 connections, we reached the maximum of our 300 Mbps Ziggo cable connection.
If you have a faster connection, you should be able to max it out because you'll get 60 connections with the 'Best Deal' plan, and they have a high-speed independent network with multiple server locations.
Compare TweakNews vs Eweka, to convince yourself Eweka is a better deal.
Retention
TweakNews also has high (binary) retention. They currently offer 4,200 days across all text and binary newsgroups. This is over 11 years and more than double that of XS News (see our XS News review).
Retention is the amount of time a file posted to Usenet is stored. The higher the retention, the more articles you'll have access to. If you want a good Usenet experience, you should always choose a provider with high retention rates for both text and binary newsgroups. Many providers often have shorter retention for binary since they are larger.
Download completion
TweakNews, which operates its own newsfeeds, delivers a stunning 99,99% completion rate. This is an industry benchmark and much more than you'll get with some other providers.
Support
TweakNews email support is available in English and Dutch. They commit to getting back to you within five working days. So, this is not exactly instant online customer support.
In conclusion, TweakNews is a great Usenet provider that offers a comprehensive package at a competitive price. With its high completion and retention rates, free Virtual Private Network, and a free newsreader, it's a solid choice for any Usenet user.
TweakNews

Price: 9,07
Price Currency: €
Operating System: Windows, Mac OSX, Linux
Application Category: Usenet
Pros
Best completion rates 99,99%
Independently operated EU server clusters
Up to 60 connections
Free zero-log VPN
Awesome download speeds
Upgraded retention to 4200 days
Free trial – 10 days with 50 GB
Free newsreader with search + preview
Cons
EU server clusters only, which may affect access speed to users outside Europe
No instant online support
FAQ
u003cstrongu003eHow many connections for TweakNews?u003c/strongu003e
TweakNews provides 60 connections with the Ultimate+VPN plan, 40 with the Lightning plan, and 30 connections with the Fast plan.
u003cstrongu003eHow many connections in SABnzbd for TweakNews?u003c/strongu003e
In SABnzbd under 'connections' you should enter the maximum number of connections according to your TweakNews plan. (60, 40 or 30)
u003cstrongu003eWhat is my TweakNews password for Grabit?u003c/strongu003e
The TweakNews password you need to configure Grabit is the password of your TweakNews account. Use the settings in this review under Connectivity and Configuration to set up your Grabit newsreader.
u003cstrongu003eWhat does a TweakNews review reveal about the Usenet provider?u003c/strongu003e
In our Tweaknews review, we found that it offers a 7 day free trial for new users who are new to Usenet. It grants uncapped speeds and gives users several speed options. Additionally, it is secure as they use SSL to encrypt data during transfer.
u003cstrongu003eHow is the server performance of TweakNews as a Dutch Usenet provider?u003c/strongu003e
As a Dutch Usenet provider, Tweaknews demonstrates excellent server performance globally. Users report minimal server downtime and efficient Usenet downloads.
u003cstrongu003eWhat is the retention period offered by TweakNews?u003c/strongu003e
The retention period offered by Tweaknews is 4,200 days at the time of posting. The retention period continues to grow as TweakNews has continued to increase it over time.
u003cstrongu003eHow user-friendly is the TweakNews newsreader, UsenetWire?u003c/strongu003e
The Tweaknews UsenetWire newsreader is extremely user-friendly. New users to Usenet find it very easy to set up and use UsenetWire.
u003cstrongu003eCan I test TweakNews for 7 days before committing to a subscription?u003c/strongu003e
Absolutely! TweakNews offers a 7-day free trial that you can use to test their services before opting for a TweakNews package.
u003cstrongu003eWhat are the benefits of a TweakNews subscription?u003c/strongu003e
You get unlimited Usenet downloads, SSL encryption, access to the UsenetWire newsreader, and a 50GB data limit per month under a TweakNews subscription.
u003cstrongu003eIs TweakNews Usenet and VPN service worth it?u003c/strongu003e
Tweaknews Usenet and VPN service offers an impressive amount of features at a reasonable price. The VPN is a good safeguard for privacy and the Usenet service boasts of quality performance. Many users agree that this combination is worth the investment.
u003cstrongu003eHow secure is the TweakNews Usenet?u003c/strongu003e
TweakNews Usenet is highly secure. It uses SSL encryption for all data transfers, ensuring your Usenet downloads are kept private and secure. Plus you get a free VPN. 
u003cstrongu003eHow is TweakNews different from other Usenet providers?u003c/strongu003e
TweakNews is one of the favorite Usenet providers for many users globally due to its high-quality retention, reliable server performance, and secure download options.
u003cstrongu003eWhy is Tweaknews a favorite Dutch Usenet provider?u003c/strongu003e
Tweaknews is a favorite Dutch Usenet provider due to its robust server performance, high retention times, and great customer service. It is simple and user-friendly, even for those who are new to Usenet.