USENEXT was founded in 2004 by the German company Aviteo Ltd.
In recent years, much has changed at USENEXT; retention keeps growing, and they introduced new packages with nearly unlimited speed.
Consequently, it is one of the cheapest Usenet providers with a high retention time.
Price / Packages
USENEXT offers unique packages which differentiate them from the rest of our reviews (like XSnews reviews). With the monthly package, you pay only €9.95/month with 30 GB of data. Moreover, with this package, you have a free trial period (14-day).
With the year package, you pay €94.40, which is €7.95/month for 30 GB of data. However, this package is without a trial period and after a year it will be extended to the normal monthly Rookie 30GB package unless you cancel. With this, they are the cheapest in their class is.
It very well suits users that want maximum speed and high retention for a reasonable price.
Unlimited download volume
Download speed up to 800 Mbit/s
High retention time of 3800 days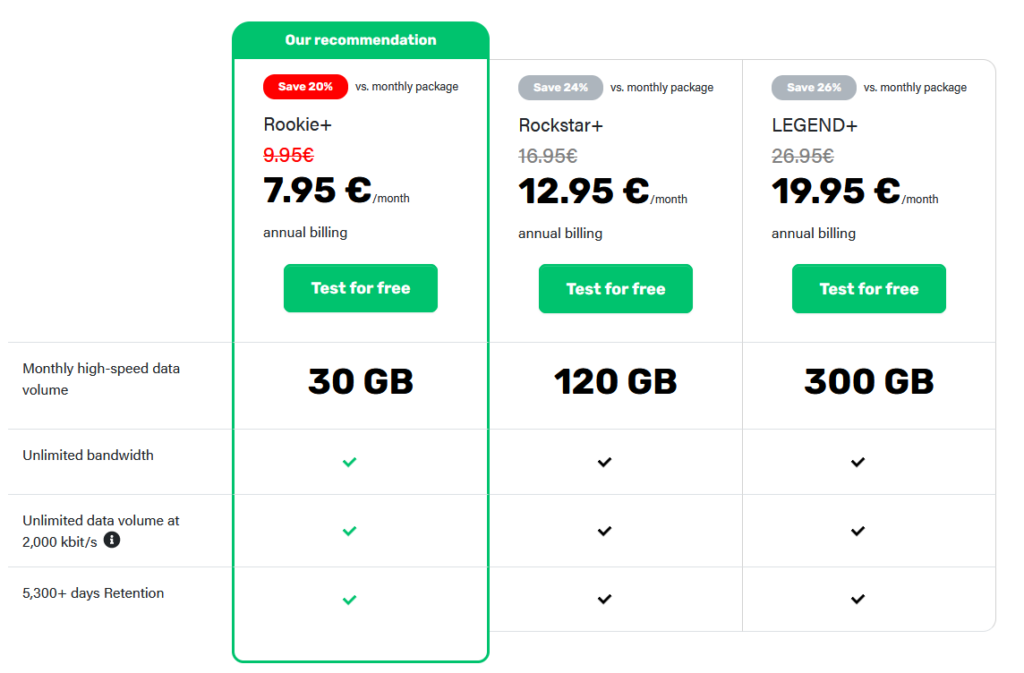 Check out what you can get for roughly the same price in our EasyNews review. And also with the Eweka voucher code (from the Usenet Eweka review), you'll pay exactly the same.
Payment Options
USENEXT also has several payment methods: iDeal, credit card, and PayPal. iDeal, however, is only possible for sign-ins from the Netherlands.

Connectivity & Configuration
Address: usenext.com
Ports: 119, 443 or 563 (SSL)
Connections: 30
Binary Retention: 5300+ days (was 2705 binary and 3800 days text)
You can use the above parameters to download with Spotnet or another Usenet indexer. USENEXT recommends the Tangysoft newsreader, which offers several special features:
Preview of some content
Comment and evaluation system
Newsgroups bookmark management
Slideshow including Cooliris-support
Downloading works well, and you can search the newsgroups easily. CPU usage is rather high, so if this bothers you, choose one of the best NZB downloaders (newsreaders).
Speed
With access to six server parks in Europe and the US, you can benefit from high-speed of up to 800 Mbit/s. With only 5 connections, we reached the maximum Ziggo (200 Mbps) during downloading. So, immagine what you can do with 30 connections.
This is an amazing speed and one of USENEXT's strong points. But why don't you compare it with Giganews vs UsenetServer?
Perhaps, you would like to try out free Usenet access, then take also the Usenet free trials of other Usenet service providers into account.
Retention
USENEXT now keeps binary files available for 2,705 days and text files for over 3,800 days. UPDATE: In 2023 they claim a binary retention of 5300+ days, we have not tested this claim. That is retention that the best Usenet providers only offer. UseNeXT and Tweaknews are based in the EU which eliminates DMCA takedowns.
Download Completion
The download completion is higher than most of the other Usenet clients. But of course, the best thing to do is test yourself free of charge because our downloads are not necessarily your downloads. Old files did not download so quickly, so this is something that they can still improve.
VPN Service
USENEXT partners with SpyOFF VPN (update: this deal seems to be over). We tested breakneck speeds, and they have server farms across the globe. This VPN has a strict zero-logs policy. Besides that, there is dedicated VPN 24/7 email support.
Operating Systems
The 'Best deal' comes with a free zero-log VPN service and can be installed on Windows, Mac-OSX, iOS, and Android operating systems.

Servers
The USENEXT VPN offers access to VPN servers in 21 Countries.
Connections
You can connect multiple devices to the USENEXT VPN, which is the market standard. Besides that, you'll have unlimited server switching, data transfers, and bandwidth.
A pretty good VPN service that is completely free when you take the best deal.
Support
USENEXT offers two ways of support. You can submit an online ticket on their support page or send an email. For Germany and the UK, there are hotlines in place.
USENEXT

Price: 7.95
Price Currency: €
Operating System: Windows, Mac OSX, Linux
Application Category: Usenet
Pros
Download speeds up to 800 Mbit/s
Attractive price
High binary retention claim
Cons
Download speed of older files is low
Low completion rate of older files
Data limits – no unlimited package
FAQ
Is USENEXT safe?
USENEXT itself is safe. It is as safe as the person that uses it, so use your everyday common sense. But USENEXT has 256-bit SSL encryption, and besides that, it offers a free VPN.
What is USENEXT?
USENEXT is used to access uncensored newsgroups on the Usenet. You can download at high speeds.
What kind of things can I download on USENEXT?
On USENEXT you can download text and binary files from over 200,000 newsgroups. On USENEXT you can also find non-English content. All information is uncensored.
What is USENEXT and how does it differ from other Usenet service providers?
USENEXT is a German Usenet provider that stands out for its 6 server farms located in the United States and Europe. The diversity of their server locations allows for high-speed downloads, with speeds up to 800 Mbps. Moreover, USENEXT provides higher retention rates for binaries compared to some other providers.
What does it mean binary retention in terms of Usenet service?
Binary retention refers to the number of days a Usenet service provider keeps binary files, which can include images, videos, music, and software, among other types of files. USENEXT boasts an impressive number of days of binary retention, affording you access to a large range of binaries.
How does the free trial of USENEXT compare to other providers?
This free trial compares well to other Usenet service providers, as it twice as long and lets you test the service effectively. Usually providers have only a 1 week free trial. USENEXT offers a 14-day free trial, providing 10GB high-speed download limit with free NZB support. After exceeding this limit, users can still download at a slower rate.
What options does USENEXT offer in terms of server access?
USENEXT takes pride in offering access to one of the largest Usenet networks, with 6 server farms located in the United States and Europe. This allows for quick access and fast downloads regardless of where the user is located.
How does USENEXT's pricing compare with other Usenet service offerings?
USENEXT ensures excellent value for the level of service and quality you receive, compared to other Usenet service offerings. USENEXT offers three types of plans: Comfort, Premium, and Flatrate. The pricing varies depending on the plan with a high-speed limit starting at 250 GB going up to 300GB.
Is USENEXT suitable for binary downloads?
Yes, USENEXT is ideal for binary downloads. Higher binary retention and the availability of NZB support make it a favorite among Usenet users who frequently download binaries.
What are the payment options for USENEXT services?
USENEXT offers several payment options tailored to user comfort. These include credit/debit card payments and PayPal. The billing period starts after the 14-day free trial period expires and the next payment is automatically deducted on the due date.
How is the download speed with USENEXT?
USENEXT offers blazing download speeds of up to 800 Mbps, among the fastest in the Usenet industry. These speeds are facilitated by the 6 server farms located in the United States and Europe, ensuring a fast connection no matter where the user is located.
How does USENEXT handle data limits?
Depending on the plan, USENEXT offers a high-speed limit ranging from 250 GB to 300GB. After reaching this limit, users can still download data at a slower rate until the next billing period starts.
Is Tangysoft safe?
Tangysoft is safe and recommended by USENEXT. However, there are better newsreaders which you can u003ca href=u0022https://shareconnector.net/best-nzb-downloaders/u0022 data-type=u0022postu0022 data-id=u002231584u0022u003efind hereu003c/au003e.
Can I change my USENEXT plan if I am not satisfied with the current one?
Yes, you can easily change your plan. USENEXT offers the flexibility to switch between Comfort, Premium, and Flatrate speed plans, allowing users to choose the option that best fits their needs and budget.