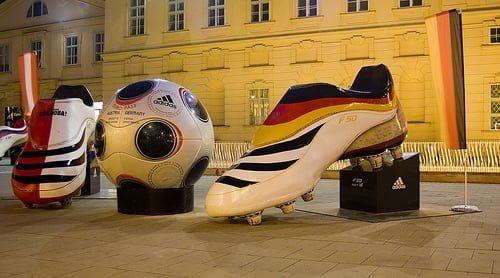 Soccer is undoubtedly one of the most popular games, which is enjoyed by people from all across the world. Not only do we love playing this great game, but we also enjoy watching soccer on television. There also are many soccer apps that are being developed these days. Here is a list of the top five football apps for iPhones.
1. Kick it with KickSwerve:
This must-have soccer game was released in 2009. It is a simple single-player game. Once you start with it, you will get addicted to it in no time. It allows you to enjoy the feeling of sending unlimited free-kicks into the net. All you need to do is swipe your iPhone screen to kick the ball. The game also has a training mode to help you improve your kicks. You can try many variations of free kicks, and also replay them from multi-camera angles. With this app, you could save your best kicks, and even e-mail them to your friends.
2. Soccer on your iPhone with ESPN Targets:
Most of us love to watch professional soccer league matches on television. Now you can even watch your favorite games on your iPhone. The amazing app by ESPN lets you stream the daily action on your iPhone. It allows you to watch the best hits for free. It is a good quality app, which uses your 3G network. So, download it from iTunes today for free.
3. Experience real soccer virtually with FIFA 11
FIFA 11 is a realistic iPhone soccer game, where the players and the game look quite real. It has been developed by EA, which is a very popular name in the gaming industry. The game comes with 511 club teams and team labels. You can enter a league tournament or play solo, whichever way you like. You make an attack (with the ball) by swiping your fingers, and you can make the passes by touching your teammate.
4. Football Manager Hand held 2013:
This game is designed for big-time soccer fans. It is a mobile version of the PC game. It is another addictive game, which will keep you glued to your iPhone for hours. It is a lightweight game but is very enjoyable. With this lifesaver app lets, you can also view the crucial Champions League matches. Now you will not have to miss your favorite games anymore.
5. Stay updated with Fox Soccer Channel
Fox Soccer Channel free app features updated news and fixtures of league matches. It also allows you to view the live scores. The paid version of this application really is worth it because it lets you stream every single match, and also watch the highlights. You won't have to miss the good games because of your tight schedules or meetings.
This article has been written by Alex. Soccer is undoubtedly one of the most loved games in the world. You could also check out our website, http://www.soccerquestions.net/ to know everything about the game.