Check out Easynews – it's like the Swiss Army knife of Usenet. You get to search, peek, and snag stuff straight from your browser, no sweat.

And talk about finding needles in haystacks – its search results are top-notch, way better than what you'd get with other newsreaders or NZB sites although a bit more expensive.
For over 12 years now, we at ShareConnector have been deeply involved in the Usenet market, analyzing newsgroup services for years, focusing on aspects such as download completeness, retention, speed, and price. Thanks to our extensive experience, we've helped many people make well-informed decisions and guided them through the world of Usenet.
After a comprehensive evaluation on 25-11-2023 by the ShareConnector editorial team, Easynews has achieved an outstanding score of 4.8. This ranks Easynews at the forefront of our list of Top Usenet providers, owing to its superior features.
Who are they?
Easynews is a premium Usenet provider known for its easy to use, web-based interface that simplifies the process of searching, viewing, and downloading Usenet content. It distinguishes itself in the market with its advanced search functions like download multiple files at the same time and high-speed download options, catering to both novice and experienced Usenet users.
Company name
Easynews Inc.
Address
807 W Morse Blvd, Ste 101, Winter Park
Florida, 32789, United States
Price / Packages
Looking for a chill Usenet deal? Easynews has got you covered with three cool plans – pick from 20 GB, 40 GB, or a whopping 150 GB of downloads each month, all at top speeds. Plus, you get SSL-encrypted downloads and browsing on the house.
And hey, if you're eyeing the best bang for your buck, their top-tier plan throws in a free no-log VPN too.
Check out this sweet deal from ShareConnector: You get unlimited Usenet access, a snazzy integrated Usenet browser with some seriously smart search features, and a free zero-log VPN. Plus, you're totally covered with 60 SSL-secured connections and top-notch retention (Easynews never deletes Usenet articles). It's like the ultimate Usenet package, all wrapped up just for you!
Easynews service really steps up the game, packing in more features than Newshosting and doing it with a cooler price tag (just take a peek at our Newshosting VPN review to see what I mean). And guess what? With our exclusive deal, you get a 7-day free trial – that's right, free newsgroups access for a whole week.
Easynews subscription options with the ShareConnector lifetime deal: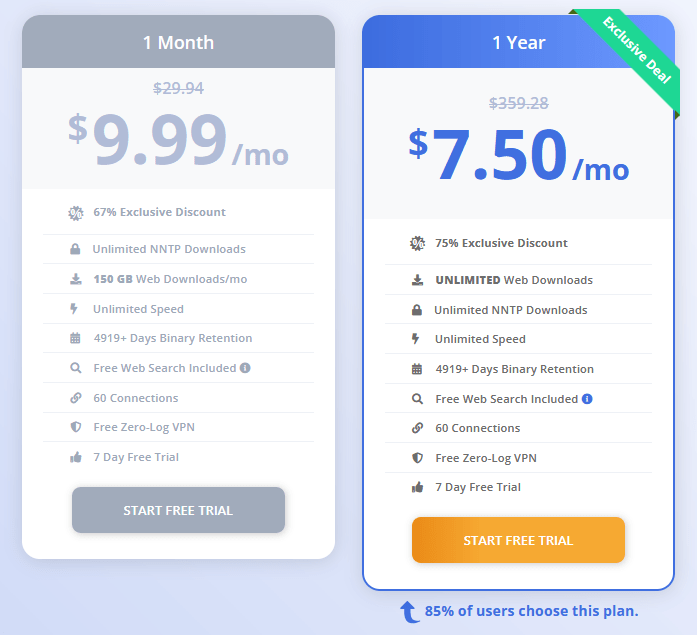 Sign up with a credit card or PayPal and if you cancel in the first week, you won't be charged anything. It's an absolute no-risk trial. We've also negotiated a special deal with UsenetServer, a perk not all UsenetServer reviews offer.
Check out the Eweka VPN review and Tweaknews VPN review for additional context.
Affordability and Competitors
Sure, Easynews might not be the budget pick of the bunch, but you're getting some real bang for your buck here. When you stack up the quality and variety of what they offer, they're totally holding their own in the Usenet hustle.
Payment Avenues
Easynews keeps it flexible with payment choices – you can go the usual way with credit cards or PayPal. Perfect for you digital savvy folks out there. Just a heads up though, paying with cryptocurrencies isn't on the menu yet.

Connectivity and Configuration
Easynews offers a breeze of a Usenet experience – no software downloads or installations needed. It's a dream for beginners, letting you dive into Usenet services and downloads directly from your browser.
While keeping it simple, it still packs a punch with features other Usenet providers miss, including both web and unlimited NNTP access. Plus, for newsreader fans like SABnzbd users, Easynews provides a variety of SSL and non-SSL ports.
Address: news.easynews.com (IPv4)
Connections: 60
Ports: 21, 23, 25, 53, 80, 110, 119, 8000, and 8080
SSL ports: 21, 23, 25, 53, 80, 110, 443, 8000, and 8080
Additional SSL: 563, 993
For those with location-based or specific preferences, alternative NNTP addresses are available:
IPv6 server: news6.easynews.com
IPv4 server (non-SSL): news.us.easynews.com
IPv6 server (non-SSL): news6.us.easynews.com
IPv4 server (SSL): secure-us.news.easynews.com
IPv6 server (SSL): secure6.news.us.easynews.com
Easynews com is like your friendly neighborhood Usenet guide – easy for anyone to get into, but still jam-packed with all the cool features you'd want to explore in the Usenet universe.
Speed
Easynews excels in speed, offering rapid and reliable downloads. With my 700 Mbps connection, I fully utilized the service during this Easynews review, achieving maximal speeds using both NNTP and the Easynews Usenet browser. You don't have to choose between Easynews access or NNTP Usenet access.
The provision of 60 connections ensures stable speeds and makes the most of the unlimited downloads offer, a perk beyond the standard 150 GB/month limit. Experience this impressive speed yourself with the one-week free trial.
For those with limited connections, more affordable options are available, as detailed in our Pure Usenet reviews.
Retention
Easynews excels in article completion and retention. It means you're less likely to encounter missing parts in your downloads – a common issue with lesser providers.
Easynews members are spoiled for choice with a wide array of Usenet newsgroups and articles to explore. At the time of writing, Easynews had a retention of 5582 days, over fifteen years – which is a huge part of Usenet.
Download Completion
Easynews boasts a stellar 99%+ download completion rate, thanks to their unique file pre-conversion before downloads. Our tests confirm this, with every download hitting a 100% completion rate, showcasing Easynews' efficient and reliable service.
Software
Easynews 3.0 Usenet Browser
Easynews Search 3.0 stands out with its intuitive interface and advanced features, letting you access and download from the Usenet network directly through any web browser, no separate newsreader needed. It's not just about easy access; the Easynews indexer let's you search Usenet with top-notch search results, and its app (web-based) even tracks your last search date – a handy perk for regular users.
Internet-based and mobile-optimized, the platform can be accessed from any device, rendering Usenet easy to use on mobiles. Compatible with major browsers and operating systems, Easynews ensures wide accessibility.
With Easynews, managing your Usenet accounts becomes a seamless and user-friendly experience, ensuring access to a vast array of newsgroups and articles.
Wanna play those quirky file types? Just snag the URL stream, pop it into VLC media player, and you're good to go. You'll need to enter your Easynews login, but hey, it ran like a dream for me.
The platform boasts advanced features such as:
Specific searches with detailed preferences
Index organization
Default file-type setting for downloads
Default retention for quicker searching
Spam-filter for searching spam-ridden groups
Adult filter
Advanced 'turbo' search
Multiple file downloading
Favorites marking
Group searching
Zip queue management
Saved search queries
And hey, that's just the tip of the iceberg. There's a whole load of features with Easynews that I can't even fit into this little blurb. Bottom line? Easynews gives you a flexible, customer-friendly ride that's seriously customizable.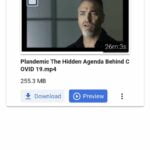 Other Easynews Features
Easynews is loaded with features, offering more than just the basics. It's a treasure trove of Usenet options, outshining others in sheer variety and depth.
Here's a glance at the main features that Easynews brings to the table:
Comprehensive all-in-one Usenet service package, setting a new industry standard
Unparalleled web based Usenet search results, ensuring users find exactly what they're looking for
Video streaming & file previews, providing a seamless media experience
Universal accessibility from any device, be it desktop or mobile, ensuring usability wherever you are
Complimentary No-Logs VPN for enhanced security and privacy
Exclusive lifetime discount of 75%, coupled with a 7-day free trial, making it a highly cost-effective solution
Each feature makes Easynews stand out as a top-notch Usenet provider. They've nailed the perfect mix of function, accessing Usenet, and great value. It's in a league of its own.
Easynews VPN Setup Review
Easynews boosts its service by teaming up with Privado VPN, known for its server ownership and commitment to safety with a zero-log policy and Swiss privacy laws. Offering a secure network, cool features like Netflix support, and sleek VPN apps, their speed with SOCKS5 proxy is top-tier.
Plus, they've got 24/7 support ready for all your VPN questions.
Operating Systems
You'll get a Free VPN with the ShareConnector's exclusive deal. You can install PrivadoVPN on Windows, Mac-OSX, Linux, iOS, and Android operating systems.
Software & Connectivity
We played around with Easynews on Windows, Mac, Android, and iOS. For a quick scoop, we're focusing on the desktop and mobile front-runners here. If you're curious about the nitty-gritty, check out our full breakdown in the PrivadoVPN review.
Windows Client
Setting up Easynews VPN on Windows 10? Piece of cake. Seriously, it's super simple and a total breeze to get rolling.
Android App
Installing the Android app on a Huawei was a breeze, and it's pretty much the same deal across all four clients, with just a few tiny tweaks here and there. The Android version is cool and user-friendly, showing prompts like 'Click To Connect', 'Connecting', and 'Connected'.
Just a heads-up though, it doesn't automatically hook you up with the best server.
Speed
The speed's seriously impressive, thanks to the WireGuard protocol. And get this – the SOCKS5 proxy speed is a game-changer, especially for torrenting and downloading. It's zooming past every other SOCKS5 proxy we've tested.
Servers
Easynews' Privado VPN provides access to hundreds of VPN servers across 48 countries and 65 cities.
Connections
Hook up to 10 gadgets at once with Easynews' Privado VPN – that's right in line with what the cool kids in the industry are doing. Plus, you get unlimited freedom to switch servers, transfer data, and use bandwidth.
And the cherry on top? This awesome VPN service comes for free with our special deal.
Customer Support
Need help with Easynews[i]? They've got you. Whether it's live chat or email, they're there to lend a hand. Plus, they're on call 24/7, every day of the year – now that's some top-tier support. They're known for quick, friendly answers, so you're in good hands for any help you need.
Easynews
Price: 7.5
Price Currency: $
Operating System: Windows, Mac OSX, Linux, iOS, Android
Application Category: Usenet
Pros
All-in-one Usenet experience
Best Usenet search results
Unlimited access, unlimited data
Highest retention
Video streaming & file previews
Any device access, incl. desktop and mobile
Includes free Zero-Log VPN
Exclusive 75% lifetime discount + free trial
Frequently Asked Questions
What is Easynews?
Easynews provides you Usenet access, Usenet search, and newsreader – with the best newsgroups search results available to date, coupled with the longest retention.
Is Easynews legal?
EasyNews is legal. You can use Easynews to download and upload articles. You are responsible that anything you do stays within the boundaries of the law.
How secure is Easynews VPN?
Easynews is pretty secure as you have SSL encryption and in addition it partners with a no-log VPN provider, PrivadoVPN. They are based in Switzerland and protected by strong privacy laws, and Privado owns all of their servers.
What is the Easynews "Big Gig" plan?
The Easynews "Big Gig" plan is a premium plan offered by Easynews. With the big gig plan, you'll be able to enjoy unlimited access to NNTP, one of the largest binary retentions in the industry, and the Internet-based search feature. It also includes a free subscription to a VPN for privacy protection.
How do I use Easynews for downloading files?
To download files, you can use the Easynews web-based search interface. Once you found your desired files, you can then download them directly via the web interface or use a newsreader if you prefer.
How can Easynews help if I am new to Usenet?
Easynews can help Usenet newcomers to start their Usenet journey, because its browser based interface makes it easy to search for files. Plus, you'll be able to use a newsreader or directly download from the web interface. No special software required.
Do I need to install a Usenet client to use Easynews?
No, you don't need to install traditional Usenet clients to use Easynews. While you can use a newsreader if you prefer, Easynews's primary access method is their web interface, which does not require additional software.
How does the zip manager work in Easynews?
Easynews's Zip Manager helps you efficiently download large amounts of data. You can add multiple Usenet files to your Zip Queue, and the Easynews Usenet servers will zip them together and send you a single download link.
How can I cancel my Easynews account?
To cancel your Easynews account, follow these simple steps:
-Visit the Easynews cancellation page.
-Choose to cancel immediately or at the end of the current billing cycle.
-Contact Easynews support if you encounter any issues.