Easynews

Summary
ShareConnector recommends Easynews instead of signing up for a Usenet service and then configuring a newsreader. It's an all-in-one Usenet provider, including high-speed Usenet access and web-based search features with the highest retention. Besides that, you'll get the best search results of any newsreader or NZB site out there.
Easynews is the first and only Usenet service that includes everything you need.
Search, view, and download directly from your (smartphone) web browser. Usenet access, Usenet search, and newsreader – with the best free newsgroups access and search results available to date.
It has quickly become our new favorite, thanks to its one-of-a-kind and comprehensive Usenet experience.
Price / Packages
Easynews offers 3 standard Usenet packages with 20 GB, 40 GB, and 150 GB download limits per month and unlimited speed. All plans include free SSL-encrypted downloads and browsing, and the best value plan includes a free zero-log VPN.
ShareConnector has worked out an exclusive deal with Easynews. Not only will you get a 75% lifetime discount, but you'll have unlimited downloads. (with standard packages, this is limited to a maximum of 150 GB).
This ShareConnector deal includes unlimited access, an integrated Usenet browser with advanced search, free zero-log VPN, 60 SSL-secured connections, and the industry's highest retention. More features than Newshosting while slightly better priced (see our Newshosting VPN review).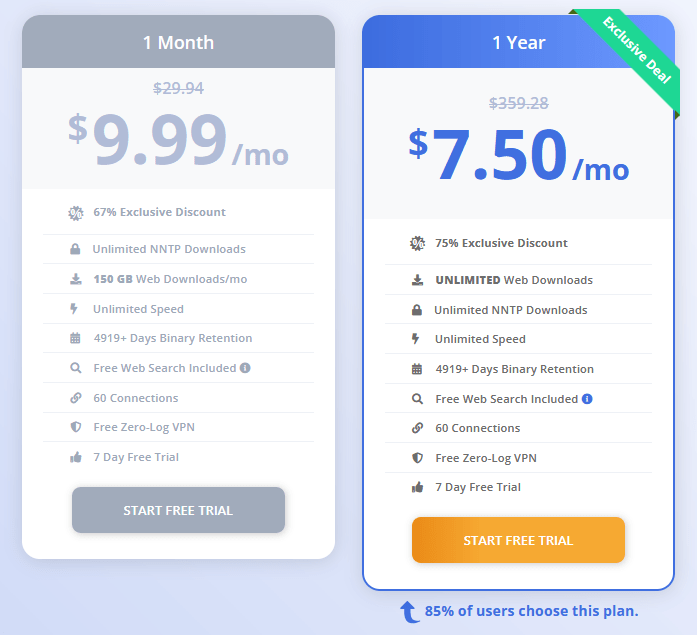 Easynews also offers a 7-day free trial with our exclusive deal. To sign up for the free trial, a credit card or PayPal account is required. However, if you cancel before the 7 days are over, there'll be no charge. We also negotiated a special deal with UsenetServer, which not all Usenetserver reviews offer.
Compare Easynews with other free Usenet trials. Look for example, at the Eweka and Tweaknews VPN review.
Payment options
You can only pay by credit card or PayPal.

Connectivity and Configuration
You don't need to download and install any software with Easynews. You can search Usenet and download straight from your browser.
Therefore, Easynews is extremely easy to use and suitable for anyone new to Usenet. At the same time, it offers features most providers don't have. What's more, there is Kodi support thanks to an addon.
If you prefer to use your own newsreader like SABnzbd with NNTP, you get a wide range of (SSL) ports to choose from.
Address: news.easynews.com (IPv4)
Connections: 60
Ports: 21, 23, 25, 53, 80, 110, 119, 8000 and 8080
SSL ports: 21, 23, 25, 53, 80, 110, 443, 8000 and 8080
Additional SSL: 563, 993
Depending on your location or preferences, you can choose alternative NNTP addresses:
IPv6 server: news6.easynews.com
IPv4 server (non-SSL): news.us.easynews.com
IPv6 server (non-SSL) news6.us.easynews.com
IPv4 server (SSL): secure-us.news.easynews.com
IPv6 server (SSL): secure6.news.us.easynews.com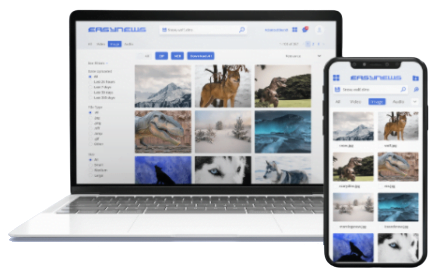 Speed
Easynews competes with the best in terms of speed. It is swift, but more importantly, these high speeds are reliable.
I maxed out my 700 Mbps cable connection with both NNTP and the Easynews Usenet browser. The speed was more consistent with NNTP thanks to the 60 connections, whereas with the browser download you have one connection.
With such speeds and 60 connections, you can seriously take advantage of our unlimited downloads offer. (usual cap is 150 GB / month)
Best of all, you can try it yourself for free with the one-week free trial.
Retention
Easynews has the highest retention in the industry while it keeps on growing consistently.
At the time of writing, Easynews had a retention of 4618 days, over twelve and a half years – which is a huge part of Usenet.
Download Completion
Easynews promises an ambitious 99%+ download completion. They are that confident about it because they pre-convert files before downloading.
This happens automatically and ensures perfect completion rates. In our tests, we had 100% download completion with every download.
Software
Easynews Usenet Browser
The user interface and its functionality is what make Easynews Search 3.0 stand out from the crowd.
With Easynews, you don't need a separate newsreader as you search Usenet and access files directly from your favorite web browser. Its straightforward to use and, on top of that, delivers the best search results of any newsreader or NZB site out there.
This means you don't have to deal with par and rar files as everything is already extracted and ready to download or stream.
Since Easynews's search interface is web-based, you can access it from any device with a web browser, including mobile. In fact, it's exceptionally well optimized for mobile devices. Usenet never before was friendly for mobile devices – until now.
It works on Windows, Mac OSX, Linux, iOS, and Android on browsers like Google Chrome, Firefox, Safari, and Opera.
After logging into your Usenet accounts, you'll get to the default "Search area". You can start entering your first search query. To select the file type you are looking for, use the buttons. You can filter the results for options like image, audio, video, etc.
File previews with images and videos work very well. This is especially handy on mobile devices since you can stream videos instead of downloading. Video playback is quick and smooth, though there is no support for the mkv video container.
Some of the advanced settings:
Specific searches with detailed preferences
Organizing indexes
Setting a default file-type for downloading
For faster searching, you can set a default retention
Spam-filter that allows you to search spam-ridden groups
Adult filter
Advanced 'turbo' search
Multiple file downloading
Marking favorites
Group search
Zip queue manager
Save search queries
And more! There are just too many options to list here.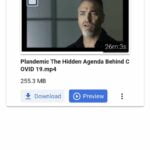 Other Easynews Features
Easynews is packed with features and options, and summing up only the main features wouldn't do it justice. In fact, it has much more features than any other Usenet provider we have tested.
Here are the main Easynews features at-a-glance:
Best all-in-one Usenet package
Best Usenet search results
Video streaming & file previews
Can be accessed from any device, including desktop and mobile
Includes free Zero-Logs VPN
Exclusive 75% lifetime discount + free trial available
VPN Service
Easynews provides a partner VPN service from Privado VPN.
PrivadoVPN is relatively new and still developing. They own all of their servers, which is the best way to build a network (safer for you). Your privacy is protected with a zero-log policy and the best Swiss privacy protection laws.
With PrivadoVPN, you get a reliable, secure network with trusted technologies, premium features like Netflix support, and good VPN apps. Our tests revealed they have the industry's fastest SOCKS5 proxy. Besides that, there is a dedicated 24/7 VPN support team.
Operating Systems
This great VPN comes free with the ShareConnector's exclusive deal. You can install PrivadoVPN on Windows, Mac-OSX, Linux, iOS, and Android operating systems.

Software & Connectivity
We tested four client interfaces (Windows, Mac, Android, and iOS) but highlighted the most popular desktop and mobile programs. In our PrivadoVPN review, you can find more information on all clients.
Windows Client
Installation on Windows 10 was easy and straightforward. Due to its simplicity, the client is easy to use. However, the connection button is not intuitive at all. The spinning Privado logo lets you believe the program is in the process of connecting, but to connect to a server, you need to click it.
Android App
We installed the Android app on a Huawei without any problems. All four clients are basically identical and work great with only a few differences. In this app, you don't get confused by the spinning Privado logo because it clearly says, Click To Connect, Connecting, or Connected below the logo.
In all apps you can choose to connect to the best server except for the Android app.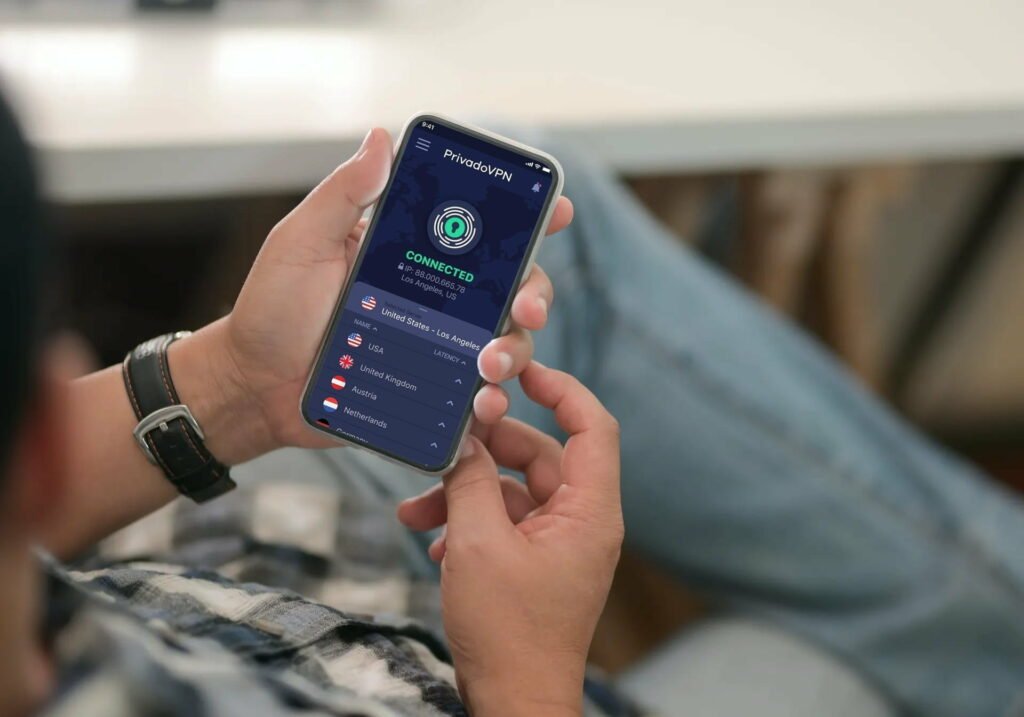 Speed
Speed is not great due to the absence of a WireGuard protocol, but sufficient. PrivadoVPN, however, let us know they are working on adding this lightning-fast protocol. But, the SOCKS5 proxy is incredibly fast. It is faster than the fastest SOCKS5 we tested so far. So, this is really great for torrenting and downloading.
Servers
The Easynews Privado VPN offers access to 45 Countries with Hundreds of Servers.
Connections
You can connect up to 10 devices to the Easynews Privado VPN service, the market standard for VPN services. Besides that, you'll have unlimited server switching, data transfers, and bandwidth.
A pretty good VPN service that is completely free when you take the exclusive deal.
Support
EasyNews offers 24/7 support 365 days a year which is considered one of the best customer support services in the industry. Besides that, they have a bunch of common issues and answers on their help page.
FAQ
Is Easynews legal?
EasyNews is legal. You can use Easynews to download and upload articles. You are responsible that anything you do stays within the boundaries of the law.
What is Easynews?
Easynews provides you Usenet access, Usenet search, and newsreader – with the best newsgroups search results available to date, coupled with the longest retention.
How secure is Easynews VPN?
Easynews partners with a zero-log VPN provider, PrivadoVPN. They are based in Switzerland and protected by strong privacy laws, and Privado owns all of their servers.
Pros
All-in-one Usenet experience
Best Usenet search results
Unlimited access
Highest retention
Video streaming & file previews
Any device access, incl. desktop and mobile
Includes free Zero-Log VPN
Exclusive 75% lifetime discount + free trial
Cons
No bitcoin payments
VPN Windows interface
Easynews

Searching & Downloading Unified
Access files directly from your web browser w/ Free Zero-Log VPN Today