Discover XSNews, a Netherlands-based Usenet provider with over a decade of global impact.
Join us as we unravel the ELITE package in this in-depth review.
Packages / Price & Coupon Code
XSNews offers three different flatrate subscriptions including unlimited downloading (prepaid plans). With the ELITE subscription, you'll have unlimited data and speed.
Besides that, you can choose the "Super" subscription with a 50Mbit/mo—cap, 20 connections, and a speed of 6.25 MB/s.
Eweka is similarly priced as XSNews[i], but offers more as you can read in our Eweka reviews.
XS News offers three different block accounts with unlimited speed and from 10, 50 and 100 connections. You'll get unlimited gigabytes of data and can choose between speeds 10, 50 and unlimited Mbps.
If you don't want a subscription, this might be something for you. You can try XS News also risk-free with the 14-day free trial (no more coupon code).
See how this plays out against others in our news servers comparison chart.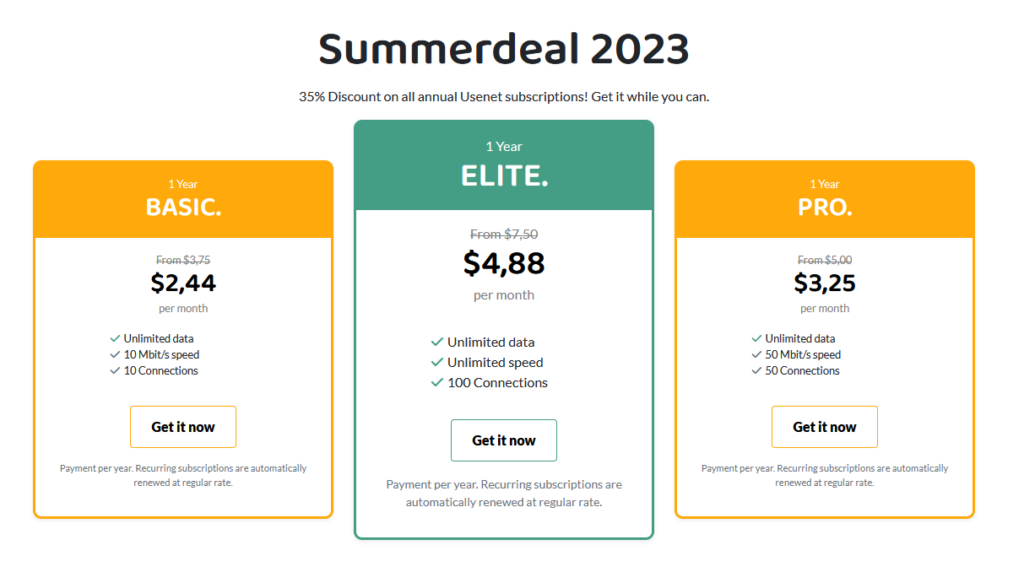 ELITE package
Unlimited downloads
Unlimited speed
100 connections
2750+ days (binary) retention
99.8% completeness
134,000+ newsgroups
Free SSL encryption
14-day trial period
As you can see in our Tweaknews reviews, this is slightly cheaper than Tweaknews but with a inferior package (fewer connections, less retention, and no VPN).
Payment options
The company offers several payment options available like Visa, Mastercard, Mistercash, Paysafecard and even Bitcoin and Sofort.
Connectivity and Configuration
Address: reader.xsnews.nl
Ports: 119, 80, 443 (SSL) or 563 (SSL)
Connections: up to 100
You can use these settings to download with a newsreader of your choice like SABnzbd.
Speed
We only used 7 connections to max out the 300 Mbps cable connection in The Hague, Netherlands. All files from different binary groups were downloaded at a stable maximum speed without "missing articles" or delays.
The XS News servers are located in the Netherlands, and unless you have a high-speed connection (800+ Mbps), you will still max out your internet connection. This speed is similar to the speed we measured in the USENEXT user reviews.
So, XS indeed offers unlimited speed. To avoid disappointment and wasting money, test it yourself during a two-week period of free Usenet downloads.
Retention
The retention of more than seven and a half years is sufficient for most downloaders. If you prefer downloading with much higher days of retention, check out EasyNews, Newshosting, and UsenetServer. In addition, we negotiated a UsenetServer special offer discount.
Download completion
We also reached the promised completion with each download and had a very consistent experience, similar to our Newshosting vs UsenetServer comparison. DMCA takedowns seem to be less frequent but no guarantees.
Support
You can call Tech Support by phone. They list the phone number on their website which is available from Monday till Friday between 10:00 AM and 8:00 PM (CET/Amsterdam).
Support is closed on national holidays.You can also write Tech Support from My XS News, from the XS News website, or by email (support@xsnews.nl). The support team doesn't provide live chat, like more expensive providers offer.
They have an FAQ section on their help page for regular questions. If you want the best 24/7 customer support, check out our EasyNews search review.
XSNews

Price: 3.75
Price Currency: $
Operating System: Windows, Mac OSX, Linux
Application Category: Usenet
Pros
Solid EU servers
Block account
Cons
Relatively short retention
Overpriced
Only EU servers
FAQ
How many connections for XSNews?
With XSNews, you can use up to 100 connections with the Elite subscription. Other plans have fewer connections. The Pro subscription provides 50 connections and the Basic subscription 10.
How to set up SABnzbd with XS News?
To set up SABnzbd with XS News, fill out the configuration details we listed in this Usenet provider review at Connectivity and Configuration.
What is an alternative to XS News?
EasyNews is a good alternative to XS News. You can access files directly from your browser without installing anything. EasyNews allows you to search, preview and download articles from newsgroups extremely fast with much higher retention and less money.
What makes XSNews a popular European Usenet provider?
XSNews stands out as a popular European Usenet provider that offers a mix of speed and retention. It performs well in speed testing, meaning Usenet users can get faster service for downloading their favorite Usenet content. Furthermore, it's located in the EU, which gives it a legal edge for content retention.
What are the payment options available for XSNews?
The payment options are available for popular online banking systems like Belfius and KBC and traditional credit cards.
How does the free trial of XSNews work?
XSNews offers a free trial allowing new users to use the service and judge its quality before committing to a paid plan. However, availability may vary, so make sure to check the website for any changes to their trial offer.
How good is the Elite package of XSNews?
XS News Elite package is pretty good, although a bit more expensive, but it offers the best services with high speed, unlimited traffic, and a large number of connections. 
How do Usenet services like XSNews offer access to newsgroups?
Usenet service providers offer access to newsgroups through their servers. With XSNews, users can access various newsgroups to find the content they are looking for. The service also offers a good binary retention rate which is crucial for accessing older posts.
What newsreader options does XSNews provide?
XS News also offers its users a newsreader for easy access to its news servers. This facilitates the browsing, searching, and downloading of Usenet content. The newsreader works seamlessly with the service and is included in the subscription plans.
Does XSNews offer unlimited speed?
XS News offers different packages with varying speeds including unlimited. The Elite package practitioners can enjoy the high speed without any speed limit. However, the other more economic packages come with a speed limited to ensure fair usage for all subscribers.
When is the XSNews support team available?
The XSNews support team is available from Monday to Friday. They provide support in both Dutch and English, assuring quality assistance to users for any queries or problems relating to their Usenet service.