XSNews

XSNews or XS News is based in the Netherlands (Amsterdam) and is a well-known Usenet provider for over a decade, locally and internationally.
With the emphasis on quality, simplicity, and customer satisfaction, they promise an excellent Usenet experience. In this Usenet provider review, we tested the ELITE package.
Packages / Price & Coupon Code
XSNews has three different flat rate subscriptions with unlimited downloading. With the ELITE subscription, you'll have unlimited speed. Besides that, you can choose the "Super" subscription with a 50Mbit/mo—cap, 20 connections, and a speed of 6.25 MB/s. Don't just look at any Eweka reviews. In our review, you'll see that it is a bit cheaper with the Eweka coupon discount (yearly payment).
On top of that, they have three different block accounts with unlimited speed and 20 connections. You'll pay per downloaded gigabyte and can choose between 100, 250, 500, and 1000GB. If you don't want a subscription, this might be something for you.
See how this plays out against others in our news servers comparison chart.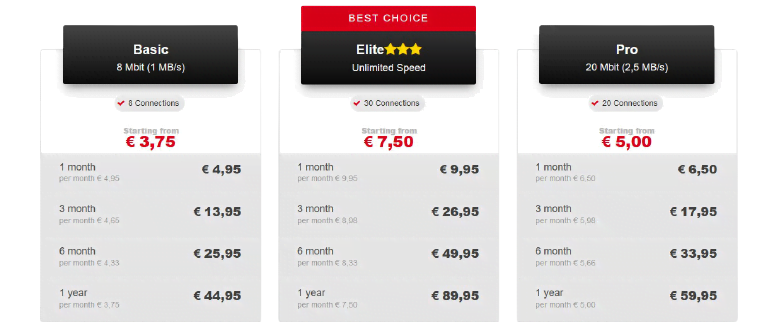 ELITE package
Unlimited downloads
Unlimited speed
30 connections
2000+ days retention
99.8% completeness
200,000+ newsgroups
SSL encryption
No DMCA takedowns
As you can see in Tweaknews reviews, this is much cheaper than Tweaknews with a slightly reduced package (fewer connections, less retention, and no VPN).
Payment options
There are several payment options available, even Bitcoin.

Connectivity and Configuration
Address: reader.xsnews.nl
Ports: 119, 80, 443 (SSL) or 563 (SSL)
Connections: 30
Retention: 2000+ days
You can use these settings to download with a newsreader of your choice like SABnzbd.
Speed
We only used 7 connections to max out the 300 Mbps cable connection in The Hague, Netherlands. All files from different binary groups were downloaded at a stable maximum speed without "missing articles" or delays.
The XS News servers are located in the Netherlands, and unless you have a high-speed connection (800+ Mbps), you will still max out your internet connection. This speed is similar to the speed we measured in the USENEXT user reviews.
To avoid disappointment and wasting money, test it yourself during a two-week period of free Usenet downloads.
Retention
The retention of more than five and a half years is sufficient for most downloaders. If you prefer downloading with much higher retention, check out EasyNews, Newshosting, and UsenetServer. In addition, we negotiated a UsenetServer special offer discount.
Download completion
We also reached the promised completion with each download and had a very consistent experience, similar to our Newshosting vs UsenetServer comparison.
Support
You can call Tech Support by phone. They list the phone number on their website which is available from Monday till Friday between 10:00 AM and 8:00 PM (CET/Amsterdam). Support is closed on national holidays.
You can also write Tech Support from My XS News, from the XS News website, or by email. They have an FAQ section on their help page for regular questions. If you want the best 24/7 customer support, check out our EasyNews search review.
FAQ
How many connections for XSNews?
With XSNews, you can use up to 30 connections with the Elite subscription. Other plans have fewer connections. The Pro subscription provides 20 connections and the Basic subscription 8.
How to set up SABnzbd with XS News?
To set up SABnzbd with XS News, fill out the configuration details we listed in this review at Connectivity and Configuration.
What is an alternative to XS News?
EasyNews is a good alternative to XS News. You can access files directly from your browser without installing anything. EasyNews allows you to search, preview and download articles from newsgroups extremely fast with much higher retention and less money.
Pros
Mega quick downloads
over 200,000 newsgroups
Cons
Relatively short retention of 2000 days
Download fast and unlimited with a 14-day free trial today