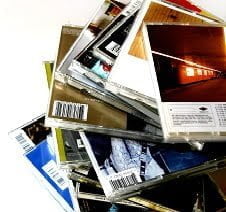 The first album ever to be released as a CD album was Billy Joel's award-winning '52nd Street', which was sold in Japan on October 1, 1982. Despite the increasing popularity of digital downloads in the last decade, printing CD albums can still be a worthwhile investment.
Here, we discuss some of the key reasons why musicians should still consider the more traditional approach when it comes to making sales.
An album is a valuable piece of merchandise
Buying a traditional CD album is still an important cultural pursuit for many people of all ages. Keeping a CD rack of all your favourite albums is a way of storing all or your interests and memories, which is more personable than storing a list of songs or albums on an online database.
Printing CD albums is also an important 'visual' stimulant for music fans; it helps you create an image for your song and is a useful way to market yourself to prospective buyers. Using a stylish, attractive CD album from a professional design and print company will help you improve your market exposure and target a broader audience.
When people see your album at a high street shop, they can buy it in a matter of seconds. Purchasing online, however, still requires pages to load and credit card details to be filled, which may deter young people who have yet to own a personal credit card.
Giving people the option to choose between digital and CD
Although it would be practically impossible for a musician to focus exclusively on CD albums to generate sales, it is still important to give your customers the option of listening to your music on a CD. While downloads are quick and relatively cost-friendly, many consumers still prefer to purchase CDs because they are generally of a much higher quality compared to downloaded files, which may be just 4 to 6 megabytes.
More freedom and fewer restrictions
There are fewer restrictions with CDs because they can be shared easily with other people. Downloaded songs, on the other hand, may only be usable for a limited amount of time due to strict digital rights management terms, and may also be incompatible with certain sound systems. CDs are also more flexible because users can rip them into different formats, whereas downloads only include a set format and bit rate.
CD albums can be promoted in the non-Internet world
Music events, societies, busy high streets or shopping centres are great places to promote products and services because of the high level of exposure. Even in 2013, not all people have constant access to the internet. Many teenagers and young people may have to share a laptop or a PC with other members of their family and may not have access to an iPhone or an internet-capable mobile device. When buying music albums, these people may still prefer to purchase music in the more traditional way as opposed to the digital option.
Printing companies allow musicians to market their CD albums with outstanding printing quality to ensure that they make the best impact to their prospective customers. Be sure to choose a printing company with years of experience of serving countless artists and organisations, and ensure your chosen team has the skills and the workmanship to produce prints that perfectly match the requirements of their customers.
Joanna Harrington is a designer who regularly works with musicians to help them create stunning album artwork for their upcoming release. She works for a company in Essex which offers bespoke CD printing services to anyone looking to market a disc to the masses.